gaslight, gatekeep, girlblog!
on femcelcore memes, manny jacinto (again), Pleasure (the film), and more.
Welcome to
Hyperfixate!
This is a newsletter that's slowly but surely coming off "holiday mode". Or rather, "Ari being abroad mode". Sign up
here
. Support this newsletter via Ko-Fi
here
.
We all know I love Dean Pelton from Community. He's just like me: a bespectacled freak with visceral responses to Joel McHale in a pair of aviators. I recently came across a meme starring The Dean, and subsequently a string of meme accounts that occupy—so I've been told—a 'femcelcore' niche.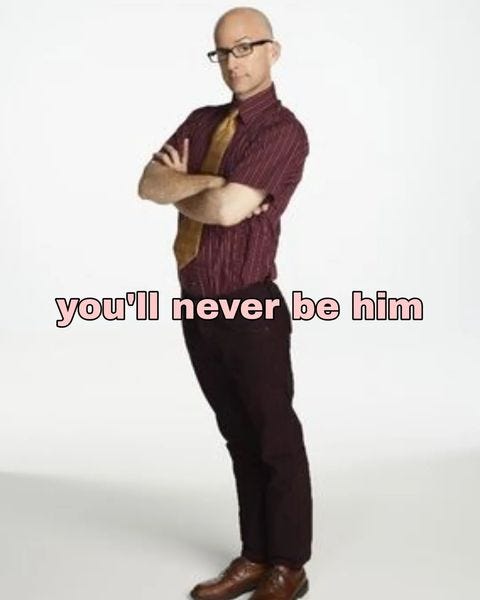 When I was first writing this, I was coming at it from a place of bewildering ignorance—like, "look at all these girlies who listen to Mitski and Fiona Apple but feel some bizarre kinship with George Costanza from Seinfeld!" How exciting! Finally, a niche I kinda get! Little did I know this niche already had a name and I was barely scratching the surface.
There's been a handful of media coverage on the 'femcel' wave—as a reactionary response to the resurgence of trad-wivery or the 'clean girl' aesthetic or as an extension of Sad Girl Culture. I think I'm more interested in the frames of reference that these meme accounts use, and the kind of irony that's born out of simply perpetuating this aesthetic instead of any shared ties with involuntary celibacy. There are ties, at least I think, to actual incel culture with how there's a subset of this femcelcore, 'female manipulator' accounts that both ironically and unironically covet the hosts of the Red Scare podcast. Yikes! I do think it's fascinating that to embrace mayhem, one's 'Fleabag era' if you will, is a way for (mostly white) femmes to remove themselves from the girlboss brand of western, white feminism whilst still upholding a version of the status quo where the aestheticization of said 'chaos' or 'female hysteria' adopts either a sense of traditionalism or conservatism. (Girl, what are you even saying?) ((I meant to leave that in there, don't worry.))
That review of Ottessa Moshfegh's latest novel for Vulture comes to mind; where her work's fixation on fecal matter, and an 'alternative' bordering on 'offensive' (this can be argued to death) perspectives her protagonists take one, and an almost visceral need to return to some kind of puritanism. I'm quite indifferent to both Chu and Moshfegh's work myself, although I do find a lot of the fatphobia—incidental or otherwise—in Moshfegh's work quite troubling, I don't really know how much of an opinion I can have based on My Year of Rest and Relaxation Alone—a novel that's become part of the overarching femcel lore.
Kendall Roy is a pillar within this lore. Kendall's key phrases that get thrown around and are celebrated within this femcel aesthetic are usually "pathetic" or "daddy issues". KendallRoycore in itself can exist outside of the femcel umbrella, obviously; I think Succession fans have some of the more interesting relationships to internet fandom, although in no way new but it's familiar and you can trace back its origins. The point I was ramping up to was this aestheticization of ironic disarray being at the core of what makes these memes work, and why images of Kendall Roy, George Costanza, and even Patrick Bateman himself have become approximations of this very "relatable" instability.
Catholic imagery and Franz Kafka are just as popular in strains of femcelcore, and it is an aesthetic choice, a visual trend that translates a certain kind of irony from those frames of reference alone. It might be to do with a kind of reclaiming, repurposing, or reappropriating of a traditionally rigid visual language to represent an intangible sense of satire, as well as touching on feelings of guilt, shame, and desire often associated with the repression these frames of reference illustrate.
With images of Dean Pelton, I think it's because the character occupies such a bespoke level of patheticness (down so bad for Jeff Winger, can't run his school) and a very casual approach to his own queerness makes him sort of the perfect blank canvas. I love this one because, for lack of a better sentiment, so true bestie:
Even the hashtags and usernames make so much sense for this specific kind of meme, I'm genuinely impressed sometimes by how much they get those synapses firing. My favourite format I've seen thus far (Dean Pelton aside) has been the American Girl doll memes. They have a certain Jhené Say Kuah about them.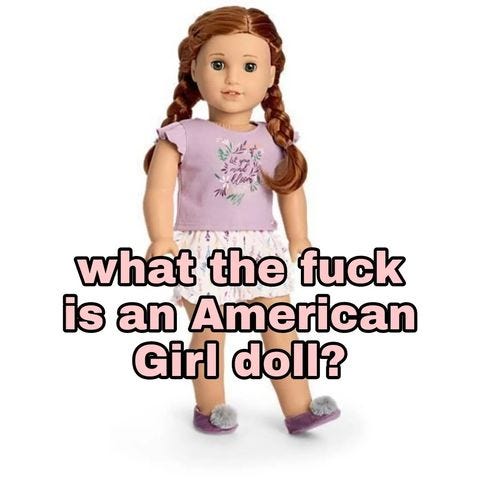 All of this reminds me of, or somehow coincides with, my little brother finding out who Slavoj Žižek is through a series of TikToks, and that one time Azealia Banks had beef with him over Instagram. Žižek's own increase in 'memeability' (ew, I know, I hate that I wrote that down, too) comes from a similar aesthetic desire to make a specific kind of irony universal.
Tiktok failed to load.
Enable 3rd party cookies or use another browser
I am, of course, reaching. This took me ages to actually write because not only had I been so busy the last couple of weeks, but I haven't been able to articulate what it is about this subset of memes that have hooked me to the point I can't stop thinking about them. Not me with the femcelcore meme tunnel vision!
I think it's just funny that a lot of the things I do like (The Dean from Community, Succession, Fiona Apple's music, Seinfeld) are changing shape to communicate something that I can both understand and can't articulate for myself, yet I feel completely separate to. It really isn't that deep, at least for me, but with the speed at which TikTok, Instagram, and the young people on those platforms continue to shape their identities around microtrends and their media consumption (as surely I also did in my adolescence), it can get a little freaky. A little off-putting weird girl swag. But who am I to stand in the way of young people exploring their identities, through whatever means that may be? None of me bloody business now, is it? But I still am worried about the parts that could and are harmful within a seemingly harmless visual subculture.
It is quite interesting that there's now an entirely new lexicon (with obvious roots in internet cultures of yore) available to perform and express one's inner turmoil, maybe even not take it seriously. It's fascinating. I guess this is just what being extremely online is like now, silly "think"pieces over memes you can't stop posting on your Instagram story. It really just boils down to "haha so true slay", doesn't it?
I'll still repost these sorts of memes, mostly because they do make me laugh, and because there's still enough separation from that 'subculture'—if you can even call it that—and myself that I can just be a tad flippant about it. That wasn't as critical as I wanted it to be. Forgive me, I'm a little rusty.
IT'S FANTASTIC
Speaking of #Girlbossing, these photos from the set of Greta Gerwig's Barbie are EVERYTHING TO ME. You don't understand. I need to cop this whole fit. And I will let it devour any semblance of personality I may or may not have.
Bradley Cooper Wellness Check
Italianx Ambassador Stefani Joanne Angelina Germanotta was reported to be in talks for the musical sequel to Todd Philips' incel masterwork Joker (2019). Gaga is up for the role of Harley Quinn to Joaquin Phoenix's titular Clown Prince of Crime, and all my thoughts and prayers are with Bradley Cooper—a man that was famously in Todd Philips' The Hangover trilogy. Jackson Maine would've loved to let it rip in Gotham City, I'm sure. I hope Will Smith has gone to check on him.
Mother Virgo Told Me To Quit My Job
I adore BREAK MY SOUL. Cosplay all you want, Comrade Yoncé! As long as I can shake my ass to this, I'm all good!
It's 2017 Somewhere
SZA has released the deluxe version of her critically acclaimed album Ctrl, with seven new/previously on Soundcloud tracks. Just in time for summer! It has been years since I heard PARTYNEXTDOOR's Come and See Me, and I had forgotten about her interpolation of it on 2AM. I think my favourite track is Jodie.
Here's Manny!
Danny Ramirez posted more Top Gun: Maverick BTS photos on Instagram and there was finally one with Manny Jacinto in it! Slay! Proof he was actually in this film! Danny tagged him and everything!
I saw Miles Teller on Seth Meyers the other day talking about how he had an allergic reaction to pesticides and jet fuel in his bloodstream, and Tom Cruise's insane response of obviously 'being born with jet fuil in his veins, kid', and Teller pointed out how for a lot of the actors in the ensemble, this was their first massive showcase and that the film's delayed release actually worked to their advantage.
Witnessing the K-Popfication of Top Gun: Maverick is right up my and this newsletter's alley! Tom Cruise aegyo in my lifetime? In 2022? I could not have seen that coming. If your bias is Maverick or Rooster, good for you, but that ain't me. All about Hangman-hyung and Jennifer Connelly-unnie. Fanboy is the maknae and Fritz (Manny Jacinto) is apparently on military leave. That's why we don't see him in any of the visuals. Look at this boy group right here! SMTOWN LIVE is going to take to the skies next year!
Business or Pleasure?
A massive thank you to my pals over at Rianne Pictures and MUBI for the tickets to see Pleasure before its release! Bird's Eye View had a screening at Hackney Picturehouse as part I think the film is stunning, visually and emotionally, and it's been out on MUBI for the past week now if I'm not mistaken. Sofia Kappel is so brilliant as Bella Cherry. It's like the porn version of Black Swan, if I were to unfortunately oversimplify it into a little sound bite. Overly reductive take, I know.
The director, Ninja Thyberg, was at the screening for a Q&A and it was really cool just to hear her journey with the film, and it was quite a long journey with it as well—over five years! A lot of the film centers the female gaze in, at least what I think, a very literal sense—the female point of view rather than recentering what would or could be objects of desire under a female gaze. You could argue though, and I am agreeing as I type this, that the object of desire in the case of this film would be upward mobility, prestige, and autonomy as opposed to tangible subjects like other people. I liked how one of the film's throughlines was pornography as an industry—highlighting labour practices and disputes among performers, film crew, and agents alike.
Whilst I did enjoy the film and the nuances it had to offer, I hope that it sparks a wave of filmmaking that centers on what pornography is like for people of colour, queer, and trans workers in the industry. The white girls have had their moment in the sun.
R U Down To FOC?
This Sunday is my last show in London and I'm coming home to FOC It Up! The line-up is killer, and it's the second-ever recording session of the upcoming FOC It Up Podcast! If I haven't seen yer lovely faces yet since I've been back in town, please come through! It'll be a grand ole time.
That's all for now! See you tomorrow? Maybe?